Alice's Abenteuer im Wunderland
Alice's Adventures in Wonderland
Zwölftes Kapitel.
CHAPTER XII.
Alice ist die Klügste.
Alice's Evidence
"Hier!" rief Alice, in der augenblicklichen Erregung ganz vergessend, wie sehr sie die letzten Minuten gewachsen war; sie sprang in solcher Eile auf, daß sie mit ihrem Rock das Pult vor sich umstieß, so daß alle Geschworne auf die Köpfe der darunter sitzenden Versammlung fielen. Da lagen sie unbehülflich umher und erinnerten sie sehr an ein Glas mit Goldfischen, das sie die Woche vorher aus Versehen umgestoßen hatte.
'Here!' cried Alice, quite forgetting in the flurry of the moment how large she had grown in the last few minutes, and she jumped up in such a hurry that she tipped over the jury-box with the edge of her skirt, upsetting all the jurymen on to the heads of the crowd below, and there they lay sprawling about, reminding her very much of a globe of goldfish she had accidentally upset the week before.
"Oh, ich bitte um Verzeihung," rief sie mit sehr bestürztem Tone, und fing an, sie so schnell wie möglich aufzunehmen; denn der Unfall mit den Goldfischen lag ihr noch im Sinne, und sie hatte eine unbestimmte Art Vorstellung, als ob sie gleich gesammelt und wieder in ihr Pult gethan werden müßten, sonst würden sie sterben.
'Oh, I BEG your pardon!' she exclaimed in a tone of great dismay, and began picking them up again as quickly as she could, for the accident of the goldfish kept running in her head, and she had a vague sort of idea that they must be collected at once and put back into the jury-box, or they would die.
"Das Verhör kann nicht fortgesetzt werden," sagte der König sehr ernst, "bis alle Geschworne wieder an ihrem rechten Platze sind – alle," wiederholte er mit großem Nachdrucke, und sah dabei Alice fest an.
'The trial cannot proceed,' said the King in a very grave voice, 'until all the jurymen are back in their proper places—ALL,' he repeated with great emphasis, looking hard at Alice as he said do.
Alice sah sich nach dem Pulte um und bemerkte, daß sie in der Eile die Eidechse kopfunten hineingestellt hatte, und das arme kleine Ding bewegte den Schwanz trübselig hin und her, da es sich übrigens nicht rühren konnte. Sie zog es schnell wieder heraus und stellte es richtig hinein. "Es hat zwar nichts zu bedeuten," sagte sie für sich, "ich glaube, es würde für das Verhör ganz eben so nützlich sein kopfoben wie kopfunten."
Alice looked at the jury-box, and saw that, in her haste, she had put the Lizard in head downwards, and the poor little thing was waving its tail about in a melancholy way, being quite unable to move. She soon got it out again, and put it right; 'not that it signifies much,' she said to herself; 'I should think it would be QUITE as much use in the trial one way up as the other.'
Sobald sich die Geschwornen etwas von dem Schreck erholt hatten, umgeworfen worden zu sein, und nachdem ihre Tafeln und Tafelsteine gefunden und ihnen zurückgegeben worden waren, machten sie sich eifrig daran, die Geschichte ihres Unfalles aufzuschreiben, alle außer der Eidechse, welche zu angegriffen war, um etwas zu thun; sie saß nur mit offnem Maule da und starrte die Saaldecke an.
As soon as the jury had a little recovered from the shock of being upset, and their slates and pencils had been found and handed back to them, they set to work very diligently to write out a history of the accident, all except the Lizard, who seemed too much overcome to do anything but sit with its mouth open, gazing up into the roof of the court.
"Was weißt du von dieser Angelegenheit?" fragte der König Alice.
'What do you know about this business?' the King said to Alice.
"Durchaus nichts?" drang der König in sie.
'Nothing WHATEVER?' persisted the King.
"Durchaus nichts!" sagte Alice.
'Nothing whatever,' said Alice.
"Das ist sehr wichtig," sagte der König, indem er sich an die Geschwornen wandte. Sie wollten dies eben auf ihre Tafeln schreiben, als das weiße Kaninchen ihn unterbrach. "Unwichtig, meinten Eure Majestät natürlich!" sagte es in sehr ehrfurchtsvollem Tone, wobei es ihn aber mit Stirnrunzeln und verdrießlichem Gesichte ansah.
'That's very important,' the King said, turning to the jury. They were just beginning to write this down on their slates, when the White Rabbit interrupted: 'UNimportant, your Majesty means, of course,' he said in a very respectful tone, but frowning and making faces at him as he spoke.
"Unwichtig, natürlich, meinte ich," bestätigte der König eilig, und fuhr mit halblauter Stimme für sich fort: "wichtig – unwichtig – unwichtig – wichtig –" als ob er versuchte, welches Wort am besten klänge.
'UNimportant, of course, I meant,' the King hastily said, and went on to himself in an undertone, 'important—unimportant—unimportant—important—' as if he were trying which word sounded best.
Einige der Geschwornen schrieben auf "wichtig", und einige "unwichtig." Alice konnte dies sehen, da sie nahe genug war, um ihre Tafeln zu überblicken; "aber es kommt nicht das Geringste darauf an," dachte sie bei sich.
Some of the jury wrote it down 'important,' and some 'unimportant.' Alice could see this, as she was near enough to look over their slates; 'but it doesn't matter a bit,' she thought to herself.
In diesem Augenblick rief der König, der eifrig in seinem Notizbuche geschrieben hatte, plötzlich aus: "Still!" und las dann aus seinem Buche vor: "Zweiundvierzigstes Gesetz. Alle Personen, die mehr als eine Meile hoch sind, haben den Gerichtshof zu verlassen."
At this moment the King, who had been for some time busily writing in his note-book, cackled out 'Silence!' and read out from his book, 'Rule Forty-two. ALL PERSONS MORE THAN A MILE HIGH TO LEAVE THE COURT.'
Everybody looked at Alice.
"Ich bin keine Meile groß," sagte Alice.
'I'M not a mile high,' said Alice.
"Das bist du wohl," sagte der König.
'You are,' said the King.
"Beinahe zwei Meilen groß," fügte die Königin hinzu.
'Nearly two miles high,' added the Queen.
"Auf jeden Fall werde ich nicht fortgehen," sagte Alice, "übrigens ist das kein regelmäßiges Gesetz; Sie haben es sich eben erst ausgedacht."
'Well, I shan't go, at any rate,' said Alice: 'besides, that's not a regular rule: you invented it just now.'
"Es ist das älteste Gesetz in dem Buche," sagte der König.
'It's the oldest rule in the book,' said the King.
"Dann müßte es Nummer Eins sein," sagte Alice.
'Then it ought to be Number One,' said Alice.
Der König erbleichte und machte sein Notizbuch schnell zu. "Gebt euer Urtheil ab!" sagte er leise und mit zitternder Stimme zu den Geschwornen.
The King turned pale, and shut his note-book hastily. 'Consider your verdict,' he said to the jury, in a low, trembling voice.
"Majestät halten zu Gnaden, es sind noch mehr Beweise aufzunehmen," sagte das weiße Kaninchen, indem es eilig aufsprang; "dieses Papier ist soeben gefunden worden."
'There's more evidence to come yet, please your Majesty,' said the White Rabbit, jumping up in a great hurry; 'this paper has just been picked up.'
"Was enthält es?" fragte die Königin.
'What's in it?' said the Queen.
"Ich habe es noch nicht geöffnet," sagte das weiße Kaninchen, "aber es scheint ein Brief von dem Gefangenen an – an Jemand zu sein."
'I haven't opened it yet,' said the White Rabbit, 'but it seems to be a letter, written by the prisoner to—to somebody.'
"Ja, das wird es wohl sein," sagte der König, "wenn es nicht an Niemand ist, was, wie bekannt nicht oft vorkommt."
'It must have been that,' said the King, 'unless it was written to nobody, which isn't usual, you know.'
"An wen ist es adressirt?" fragte einer der Geschwornen.
'Who is it directed to?' said one of the jurymen.
"Es ist gar nicht adressirt," sagte das weiße Kaninchen; "überhaupt steht auf der Außenseite gar nichts." Es faltete bei diesen Worten das Papier auseinander und sprach weiter: "Es ist übrigens gar kein Brief, es sind Verse."
'It isn't directed at all,' said the White Rabbit; 'in fact, there's nothing written on the OUTSIDE.' He unfolded the paper as he spoke, and added 'It isn't a letter, after all: it's a set of verses.'
"Sind sie in der Handschrift des Gefangenen?" fragte ein anderer Geschworner.
'Are they in the prisoner's handwriting?' asked another of the jurymen.
"Nein, das sind sie nicht," sagte das weiße Kaninchen, "und das ist das Merkwürdigste dabei." (Die Geschwornen sahen alle ganz verdutzt aus.)
'No, they're not,' said the White Rabbit, 'and that's the queerest thing about it.' (The jury all looked puzzled.)
"Er muß eines Andern Handschrift nachgeahmt haben," sagte der König. (Die Gesichter der Geschwornen klärten sich auf.)
'He must have imitated somebody else's hand,' said the King. (The jury all brightened up again.)
"Eure Majestät halten zu Gnaden," sagte der Bube, "ich habe es nicht geschrieben, und Niemand kann beweisen, daß ich es geschrieben habe, es ist keine Unterschrift darunter."
'Please your Majesty,' said the Knave, 'I didn't write it, and they can't prove I did: there's no name signed at the end.'
"Wenn du es nicht unterschrieben hast," sagte der König, "so macht das die Sache nur schlimmer. Du mußt schlechte Absichten dabei gehabt haben, sonst hättest du wie ein ehrlicher Mann deinen Namen darunter gesetzt."
'If you didn't sign it,' said the King, 'that only makes the matter worse. You MUST have meant some mischief, or else you'd have signed your name like an honest man.'
Hierauf folgte allgemeines Beifallklatschen; es war der erste wirklich kluge Ausspruch, den der König an dem Tage gethan hatte.
There was a general clapping of hands at this: it was the first really clever thing the King had said that day.
"Das beweist seine Schuld," sagte die Königin.
'That PROVES his guilt,' said the Queen.
"Es beweist durchaus gar nichts!" sagte Alice, "Ihr wißt ja noch nicht einmal, worüber die Verse sind!"
'It proves nothing of the sort!' said Alice. 'Why, you don't even know what they're about!'
"Lies sie!" sagte der König.
'Read them,' said the King.
Das weiße Kaninchen setzte seine Brille auf. "Wo befehlen Eure Majestät, daß ich anfangen soll?" fragte es.
The White Rabbit put on his spectacles. 'Where shall I begin, please your Majesty?' he asked.
"Fange beim Anfang an," sagte der König ernsthaft, "und lies bis du an's Ende kommst, dann halte an."
'Begin at the beginning,' the King said gravely, 'and go on till you come to the end: then stop.'
Dies waren die Verse, welche das weiße Kaninchen vorlas: –
These were the verses the White Rabbit read:—
"Ich höre ja du warst bei ihr,
Und daß er mir es gönnt;
Sie sprach, sie hielte viel von mir,
Wenn ich nur schwimmen könnt'!


'They told me you had been to her,
And mentioned me to him:
She gave me a good character,
But said I could not swim.


Er schrieb an sie, ich ginge nicht
(Nur wußten wir es gleich):
Wenn ihr viel an der Sache liegt,
Was würde dann aus euch?


He sent them word I had not gone
(We know it to be true):
If she should push the matter on,
What would become of you?


Ich gab ihr eins, sie gab ihm zwei,
Ihr gabt uns drei Mal vier;
Jetzt sind sie hier, er steht dabei;
Doch alle gehörten erst mir.


I gave her one, they gave him two,
You gave us three or more;
They all returned from him to you,
Though they were mine before.


Würd' ich und sie vielleicht darein
Verwickelt und verfahren,
Vertraut er dir, sie zu befrei'n,
Gerade wie wir waren.


If I or she should chance to be
Involved in this affair,
He trusts to you to set them free,
Exactly as we were.


Ich dachte schon in meinem Sinn,
Eh' sie den Anfall hätt',
Ihr wär't derjenige, der ihn,
Es und uns hindertet.


My notion was that you had been
(Before she had this fit)
An obstacle that came between
Him, and ourselves, and it.


Sag' ihm um keinen Preis, daß ihr
Die Andern lieber war'n;
Denn keine Seele außer dir
Und mir darf dies erfahr'n."


Don't let him know she liked them best,
For this must ever be
A secret, kept from all the rest,
Between yourself and me.'


"Das ist das wichtigste Beweisstück, das wir bis jetzt gehört haben," sagte der König, indem er sich die Hände rieb; "laßt also die Geschwornen –"
'That's the most important piece of evidence we've heard yet,' said the King, rubbing his hands; 'so now let the jury—'
"Wenn es Einer von ihnen erklären kann," sagte Alice (sie war die letzten Paar Minuten so sehr gewachsen, daß sie sich gar nicht fürchtete, ihn zu unterbrechen), "so will ich ihm sechs Dreier schenken. Ich finde, daß auch keine Spur von Sinn darin ist."
'If any one of them can explain it,' said Alice, (she had grown so large in the last few minutes that she wasn't a bit afraid of interrupting him,) 'I'll give him sixpence. I don't believe there's an atom of meaning in it.'
Die Geschwornen schrieben Alle auf ihre Tafeln: "Sie findet, daß auch keine Spur von Sinn darin ist;" aber keiner von ihnen versuchte, das Schriftstück zu erklären.
The jury all wrote down on their slates, 'SHE doesn't believe there's an atom of meaning in it,' but none of them attempted to explain the paper.
"Wenn kein Sinn darin ist," sagte der König, "das spart uns ja ungeheuer viel Arbeit; dann haben wir nicht nöthig, ihn zu suchen. Und dennoch weiß ich nicht," fuhr er fort, indem er das Papier auf dem Knie ausbreitete und es prüfend beäugelte, "es kommt mir vor, als könnte ich etwas Sinn darin finden. '– wenn ich nur schwimmen könnt'!' du kannst nicht schwimmen, nicht wahr?" wandte er sich an den Buben.
'If there's no meaning in it,' said the King, 'that saves a world of trouble, you know, as we needn't try to find any. And yet I don't know,' he went on, spreading out the verses on his knee, and looking at them with one eye; 'I seem to see some meaning in them, after all. "—SAID I COULD NOT SWIM—" you can't swim, can you?' he added, turning to the Knave.
Der Bube schüttelte traurig das Haupt. "Seh' ich etwa danach aus?" (was freilich nicht der Fall war, da er gänzlich aus Papier bestand.)
The Knave shook his head sadly. 'Do I look like it?' he said. (Which he certainly did NOT, being made entirely of cardboard.)
"Das trifft zu, so weit," sagte der König und fuhr fort, die Verse leise durchzulesen. "'Nur wußten wir es gleich' – das sind die Geschwornen, natürlich – 'Ich gab ihr eins, sie gab ihm zwei –' ja wohl, so hat er's mit den Kuchen gemacht, versteht sich –"
'All right, so far,' said the King, and he went on muttering over the verses to himself: '"WE KNOW IT TO BE TRUE—" that's the jury, of course—"I GAVE HER ONE, THEY GAVE HIM TWO—" why, that must be what he did with the tarts, you know—'
"Aber es geht weiter: 'Jetzt sind sie hier,'" sagte Alice.
'But, it goes on "THEY ALL RETURNED FROM HIM TO YOU,"' said Alice.
"Freilich, da sind sie ja! er steht dabei!" sagte der König triumphirend und wies dabei nach den Kuchen auf dem Tische und nach dem Buben; "nichts kann klarer sein. Dann wieder – 'Eh sie den Anfall hätt'' – du hast nie einen Anfall gehabt, Liebe, glaube ich," sagte er zu der Königin.
'Why, there they are!' said the King triumphantly, pointing to the tarts on the table. 'Nothing can be clearer than THAT. Then again—"BEFORE SHE HAD THIS FIT—" you never had fits, my dear, I think?' he said to the Queen.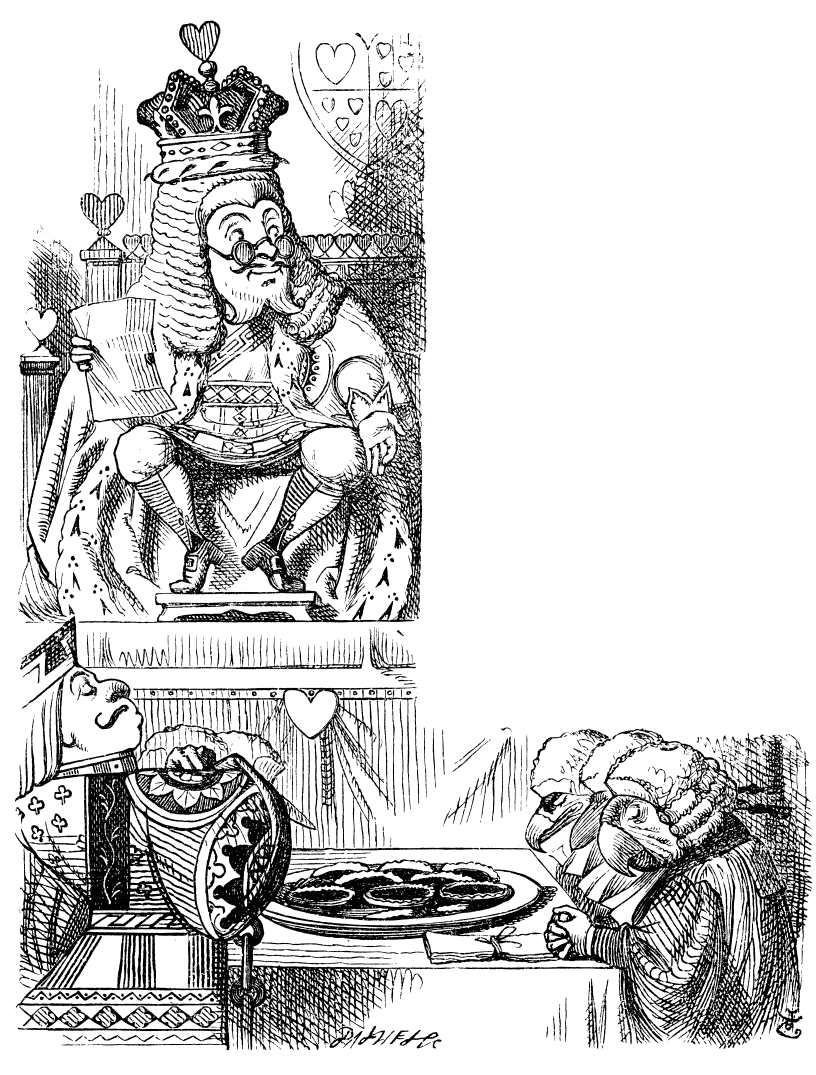 "Niemals," rief die Königin wüthend und warf dabei der Eidechse ein Tintenfaß an den Kopf. (Der unglückliche kleine Wabbel hatte aufgehört, mit dem Finger auf seiner Tafel zu schreiben, da er merkte, daß es keine Spuren hinterließ; doch nun fing er eilig wieder an, indem er die Tinte benutzte, die von seinem Gesichte herabträufelte, so lange dies vorhielt.)
'Never!' said the Queen furiously, throwing an inkstand at the Lizard as she spoke. (The unfortunate little Bill had left off writing on his slate with one finger, as he found it made no mark; but he now hastily began again, using the ink, that was trickling down his face, as long as it lasted.)
"Dann ist dies nicht dein Fall," sagte der König und blickte lächelnd in dem ganzen Saale herum. Alles blieb todtenstill.
'Then the words don't FIT you,' said the King, looking round the court with a smile. There was a dead silence.
"– 's ist ja 'n Witz!" fügte der König in ärgerlichem Tone hinzu – sogleich lachte Jedermann. "Die Geschwornen sollen ihren Ausspruch thun," sagte der König wohl zum zwanzigsten Male.
'It's a pun!' the King added in an offended tone, and everybody laughed, 'Let the jury consider their verdict,' the King said, for about the twentieth time that day.
"Nein, nein!" sagte die Königin. "Erst das Urtheil, der Ausspruch der Geschwornen nachher."
'No, no!' said the Queen. 'Sentence first—verdict afterwards.'
"Dummer Unsinn!" sagte Alice laut. "Was für ein Einfall, erst das Urtheil haben zu wollen!"
'Stuff and nonsense!' said Alice loudly. 'The idea of having the sentence first!'
"Halt den Mund!" sagte die Königin, indem sie purpurroth wurde.
'Hold your tongue!' said the Queen, turning purple.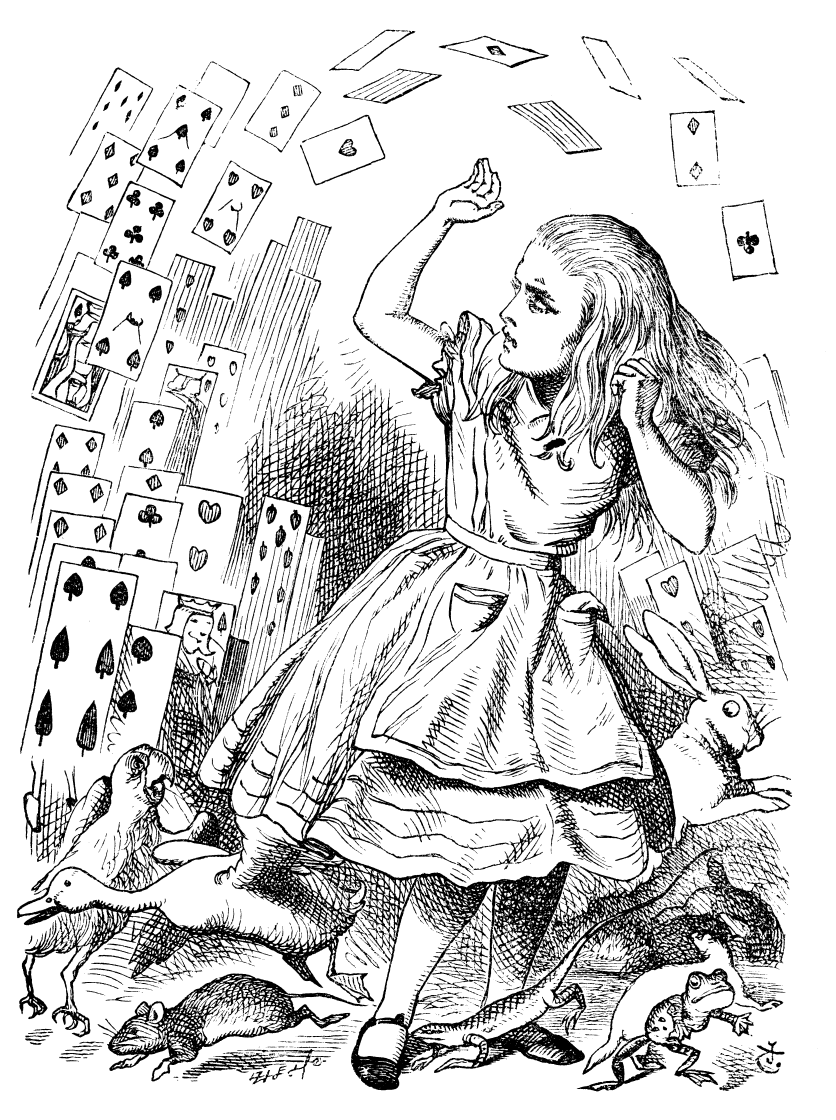 "Ich will nicht!" sagte Alice.
"Schlagt ihr den Kopf ab!" brüllte die Königin so laut sie konnte. Niemand rührte sich.
'Off with her head!' the Queen shouted at the top of her voice. Nobody moved.
"Wer fragt nach euch?" sagte Alice (unterdessen hatte sie ihre volle Größe erreicht). "Ihr seid nichts weiter als ein Spiel Karten!"
'Who cares for you?' said Alice, (she had grown to her full size by this time.) 'You're nothing but a pack of cards!'
Bei diesen Worten erhob sich das ganze Spiel in die Luft und flog auf sie herab; sie schrie auf, halb vor Furcht, halb vor Ärger, versuchte sie sich abzuwehren und merkte, daß sie am Ufer lag, den Kopf auf dem Schoße ihrer Schwester, welche leise einige welke Blätter fortnahm, die ihr von den Bäumen herunter auf's Gesicht gefallen waren.
At this the whole pack rose up into the air, and came flying down upon her: she gave a little scream, half of fright and half of anger, and tried to beat them off, and found herself lying on the bank, with her head in the lap of her sister, who was gently brushing away some dead leaves that had fluttered down from the trees upon her face.
"Wach auf, liebe Alice!" sagte ihre Schwester; "du hast mal lange geschlafen!"
'Wake up, Alice dear!' said her sister; 'Why, what a long sleep you've had!'
"O, und ich habe einen so merkwürdigen Traum gehabt!" sagte Alice, und sie erzählte ihrer Schwester, so gut sie sich errinnern konnte, alle die seltsamen Abenteuer, welche ihr eben gelesen habt. Als sie fertig war, gab ihre Schwester ihr einen Kuß und sagte: "Es war ein sonderbarer Traum, das ist gewiß; aber nun lauf hinein zum Thee, es wird spät." Da stand Alice auf und rannte fort, und dachte dabei, und zwar mit Recht, daß es doch ein wunderschöner Traum gewesen sei.
'Oh, I've had such a curious dream!' said Alice, and she told her sister, as well as she could remember them, all these strange Adventures of hers that you have just been reading about; and when she had finished, her sister kissed her, and said, 'It WAS a curious dream, dear, certainly: but now run in to your tea; it's getting late.' So Alice got up and ran off, thinking while she ran, as well she might, what a wonderful dream it had been.
Aber ihre Schwester blieb sitzen, wie sie sie verlassen hatte, den Kopf auf die Hand gestützt, blickte in die untergehende Sonne und dachte an die kleine Alice und ihre wunderbaren Abenteuer, bis auch sie auf ihre Weise zu träumen anfing, und dies war ihr Traum:
But her sister sat still just as she left her, leaning her head on her hand, watching the setting sun, and thinking of little Alice and all her wonderful Adventures, till she too began dreaming after a fashion, and this was her dream:—
Zuerst träumte sie von der kleinen Alice selbst: wieder sah sie die kleinen Händchen zusammengefaltet auf ihrem Knie, und die klaren sprechenden Augen, die zu ihr aufblickten – sie konnte selbst den Ton ihrer Stimme hören und das komische Zurückwerfen des kleinen Köpfchens sehen, womit sie die einzelnen Haare abschüttelte, die ihr immer wieder in die Augen kamen – und jemehr sie zuhörte oder zuzuhören meinte, desto mehr belebte sich der ganze Platz um sie herum mit den seltsamen Geschöpfen aus ihrer kleinen Schwester Traum.
First, she dreamed of little Alice herself, and once again the tiny hands were clasped upon her knee, and the bright eager eyes were looking up into hers—she could hear the very tones of her voice, and see that queer little toss of her head to keep back the wandering hair that WOULD always get into her eyes—and still as she listened, or seemed to listen, the whole place around her became alive with the strange creatures of her little sister's dream.
Das lange Gras zu ihren Füßen rauschte, da das weiße Kaninchen vorbeihuschte – die erschrockene Maus plätscherte durch den nahen Teich – sie konnte das Klappern der Theetassen hören, wo der Faselhase und seine Freunde ihre immerwährende Mahlzeit hielten, und die gellende Stimme der Königin, die ihre unglücklichen Gäste zur Hinrichtung abschickte – wieder nieste das Ferkel-Kind auf dem Schoße der Herzogin, während Pfannen und Schüsseln rund herum in Scherben brachen – wieder erfüllten der Schrei des Greifen, das Quieken von dem Tafelstein der Eidechse und das Stöhnen des unterdrückten Meerschweinchens die Luft und vermischten sich mit dem Schluchzen der unglücklichen falschen Schildkröte in der Entfernung.
The long grass rustled at her feet as the White Rabbit hurried by—the frightened Mouse splashed his way through the neighbouring pool—she could hear the rattle of the teacups as the March Hare and his friends shared their never-ending meal, and the shrill voice of the Queen ordering off her unfortunate guests to execution—once more the pig-baby was sneezing on the Duchess's knee, while plates and dishes crashed around it—once more the shriek of the Gryphon, the squeaking of the Lizard's slate-pencil, and the choking of the suppressed guinea-pigs, filled the air, mixed up with the distant sobs of the miserable Mock Turtle.
So saß sie da, mit geschlossenen Augen, und glaubte fast, sie sei im Wunderlande, obgleich sie ja wußte, daß sobald sie die Augen öffnete, Alles wieder zur alltäglichen Wirklichkeit werden würde; das Gras würde dann nur im Winde rauschen, der Teich mit seinem Rieseln das Wogen des Rohres begleiten; das Klappern der Theetassen würde sich in klingende Heerdenglocken verwandeln und die gellende Stimme der Königin in die Rufe des Hirtenknaben – und das Niesen des Kindes, das Geschrei des Greifen und all die andern außerordentlichen Töne würden sich (das wußte sie) in das verworrene Getöse des geschäftigen Gutshofes verwandeln – während sie statt des schwermüthigen Schluchzens der falschen Schildkröte in der Ferne das wohlbekannte Brüllen des Rindviehes hören würde.
So she sat on, with closed eyes, and half believed herself in Wonderland, though she knew she had but to open them again, and all would change to dull reality—the grass would be only rustling in the wind, and the pool rippling to the waving of the reeds—the rattling teacups would change to tinkling sheep-bells, and the Queen's shrill cries to the voice of the shepherd boy—and the sneeze of the baby, the shriek of the Gryphon, and all the other queer noises, would change (she knew) to the confused clamour of the busy farm-yard—while the lowing of the cattle in the distance would take the place of the Mock Turtle's heavy sobs.
Endlich malte sie sich aus, wie ihre kleine Schwester Alice in späterer Zeit selbst erwachsen sein werde; und wie sie durch alle reiferen Jahre hindurch das einfache liebevolle Herz ihrer Kindheit bewahren, und wie sie andere kleine Kinder um sich versammeln und deren Blicke neugierig und gespannt machen werde mit manch einer wunderbaren Erzählung, vielleicht sogar mit dem Traume vom Wunderlande aus alten Zeiten; und wie sie alle ihre kleinen Sorgen nachfühlen, sich über alle ihre kleinen Freuden mitfreuen werde in der Erinnerung an ihr eigenes Kindesleben und die glücklichen Sommertage.
Lastly, she pictured to herself how this same little sister of hers would, in the after-time, be herself a grown woman; and how she would keep, through all her riper years, the simple and loving heart of her childhood: and how she would gather about her other little children, and make THEIR eyes bright and eager with many a strange tale, perhaps even with the dream of Wonderland of long ago: and how she would feel with all their simple sorrows, and find a pleasure in all their simple joys, remembering her own child-life, and the happy summer days.
Text from wikisource.org
Audio from LibreVox.org
Text from wikisource.org
Audio from LibreVox.org