Alice's Abenteuer im Wunderland
Alice's Adventures in Wonderland
Viertes Kapitel.
CHAPTER IV.
Die Wohnung des Kaninchens.
The Rabbit Sends in a Little Bill
Es war das weiße Kaninchen, das langsam zurückgewandert kam, indem es sorgfältig beim Gehen umhersah, als ob es etwas verloren hätte, und sie hörte wie es für sich murmelte: "die Herzogin! die Herzogin! Oh, meine weichen Pfoten! o mein Fell und Knebelbart! Sie wird mich hängen lassen, so gewiß Frettchen Frettchen sind! Wo ich sie kann haben fallen lassen, begreife ich nicht!" Alice errieth augenblicklich, daß es den Fächer und die weißen Glaceehandschuhe meinte, und gutmüthig genug fing sie an, danach umher zu suchen, aber sie waren nirgends zu sehen – Alles schien seit ihrem Bade in dem Pfuhl verwandelt zu sein, und der große Corridor mit dem Glastische und der kleinen Thür war gänzlich verschwunden.
It was the White Rabbit, trotting slowly back again, and looking anxiously about as it went, as if it had lost something; and she heard it muttering to itself 'The Duchess! The Duchess! Oh my dear paws! Oh my fur and whiskers! She'll get me executed, as sure as ferrets are ferrets! Where CAN I have dropped them, I wonder?' Alice guessed in a moment that it was looking for the fan and the pair of white kid gloves, and she very good-naturedly began hunting about for them, but they were nowhere to be seen—everything seemed to have changed since her swim in the pool, and the great hall, with the glass table and the little door, had vanished completely.
Das Kaninchen erblickte Alice bald, und wie sie überall suchte, rief es ihr ärgerlich zu: "Was, Marianne, was hast du hier zu schaffen? Renne augenblicklich nach Hause, und hole mir ein Paar Handschuhe und einen Fächer! Schnell, vorwärts!" Alice war so erschrocken, daß sie schnell in der angedeuteten Richtung fortlief, ohne ihm zu erklären, daß es sich versehen habe.
Very soon the Rabbit noticed Alice, as she went hunting about, and called out to her in an angry tone, 'Why, Mary Ann, what ARE you doing out here? Run home this moment, and fetch me a pair of gloves and a fan! Quick, now!' And Alice was so much frightened that she ran off at once in the direction it pointed to, without trying to explain the mistake it had made.
"Es hält mich für sein Hausmädchen," sprach sie bei sich selbst und lief weiter. "Wie es sich wundern wird, wenn es erfährt, wer ich bin! Aber ich will ihm lieber seinen Fächer und seine Handschuhe bringen – nämlich, wenn ich sie finden kann." Wie sie so sprach, kam sie an ein nettes kleines Haus, an dessen Thür ein glänzendes Messingschild war mit dem Namen "W. Kaninchen" darauf. Sie ging hinein ohne anzuklopfen, lief die Treppe hinauf, in großer Angst, der wirklichen Marianne zu begegnen und zum Hause hinausgewiesen zu werden, ehe sie den Fächer und die Handschuhe gefunden hätte.
'He took me for his housemaid,' she said to herself as she ran. 'How surprised he'll be when he finds out who I am! But I'd better take him his fan and gloves—that is, if I can find them.' As she said this, she came upon a neat little house, on the door of which was a bright brass plate with the name 'W. RABBIT' engraved upon it. She went in without knocking, and hurried upstairs, in great fear lest she should meet the real Mary Ann, and be turned out of the house before she had found the fan and gloves.
"Wie komisch es ist," sagte Alice bei sich, "Besorgungen für ein Kaninchen zu machen! Vermuthlich wird mir Dinah nächstens Aufträge geben!" Und sie dachte sich schon aus, wie es Alles kommen würde:
"Fräulein Alice! Kommen Sie gleich, es ist Zeit zum Ausgehen für Sie!" "Gleich Kinderfrau! aber ich muß dieses Mäuseloch hier bewachen bis Dinah wiederkommt, und aufpassen, daß die Maus nicht herauskommt." "Nur würde Dinah," dachte Alice weiter, "gewiß nicht im Hause bleiben dürfen, wenn sie anfinge, die Leute so zu commandiren."
'How queer it seems,' Alice said to herself, 'to be going messages for a rabbit! I suppose Dinah'll be sending me on messages next!' And she began fancying the sort of thing that would happen: '"Miss Alice! Come here directly, and get ready for your walk!" "Coming in a minute, nurse! But I've got to see that the mouse doesn't get out." Only I don't think,' Alice went on, 'that they'd let Dinah stop in the house if it began ordering people about like that!'
Mittlerweile war sie in ein sauberes kleines Zimmer gelangt, mit einem Tisch vor dem Fenster und darauf (wie sie gehofft hatte) ein Fächer und zwei oder drei Paar winziger weißer Glaceehandschuhe; sie nahm den Fächer und ein Paar Handschuhe und wollte eben das Zimmer verlassen, als ihr Blick auf ein Fläschchen fiel, das bei dem Spiegel stand. Diesmal war kein Zettel mit den Worten: "Trink mich" darauf, aber trotzdem zog sie den Pfropfen heraus und setzte es an die Lippen. "Ich weiß, etwas Merkwürdiges muß geschehen, sobald ich esse oder trinke; drum will ich versuchen, was dies Fläschchen thut. Ich hoffe, es wird mich wieder größer machen; denn es ist mir sehr langweilig, solch winzig kleines Ding zu sein!"
By this time she had found her way into a tidy little room with a table in the window, and on it (as she had hoped) a fan and two or three pairs of tiny white kid gloves: she took up the fan and a pair of the gloves, and was just going to leave the room, when her eye fell upon a little bottle that stood near the looking-glass. There was no label this time with the words 'DRINK ME,' but nevertheless she uncorked it and put it to her lips. 'I know SOMETHING interesting is sure to happen,' she said to herself, 'whenever I eat or drink anything; so I'll just see what this bottle does. I do hope it'll make me grow large again, for really I'm quite tired of being such a tiny little thing!'
Richtig, und zwar schneller, als sie erwartete: ehe sie das Fläschchen halb ausgetrunken hatte fühlte sie, wie ihr Kopf an die Decke stieß, und mußte sich rasch bücken, um sich nicht den Hals zu brechen. Sie stellte die Flasche hin, indem sie zu sich sagte: "Das ist ganz genug – ich hoffe, ich werde nicht weiter wachsen – ich kann so schon nicht zur Thüre hinaus – hätte ich nur nicht so viel getrunken!"
It did so indeed, and much sooner than she had expected: before she had drunk half the bottle, she found her head pressing against the ceiling, and had to stoop to save her neck from being broken. She hastily put down the bottle, saying to herself 'That's quite enough - I hope I shan't grow any more - As it is, I can't get out at the door - I do wish I hadn't drunk quite so much!'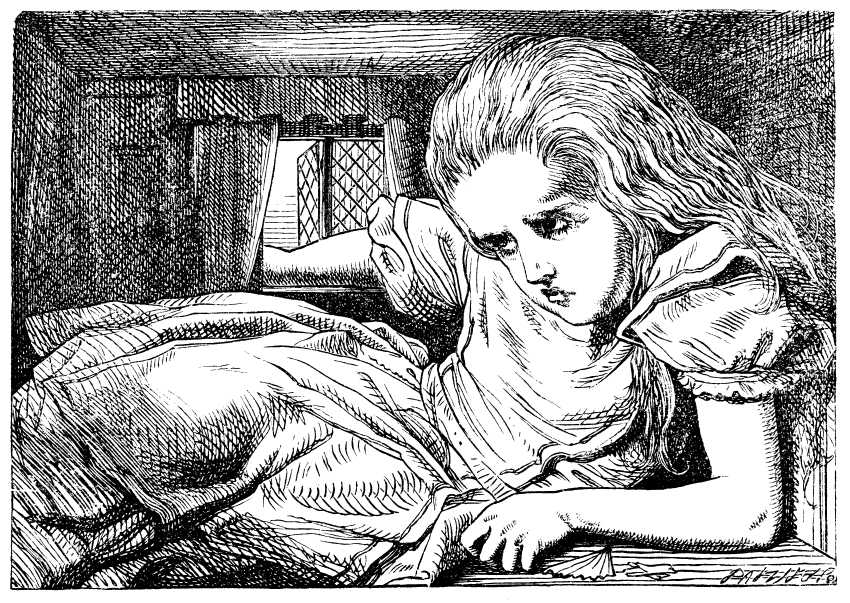 O weh! es war zu spät, dies zu wünschen. Sie wuchs und wuchs, und mußte sehr bald auf den Fußboden niederknien; den nächsten Augenblick war selbst dazu nicht Platz genug, sie legte sich nun hin, mit einem Ellbogen gegen die Thür gestemmt und den andern Arm unter dem Kopfe. Immer noch wuchs sie, und als letzte Hülfsquelle streckte sie einen Arm zum Fenster hinaus und einen Fuß in den Kamin hinauf, und sprach zu sich selbst: "Nun kann ich nicht mehr thun, was auch geschehen mag. Was wird nur aus mir werden?"
Alas! it was too late to wish that! She went on growing, and growing, and very soon had to kneel down on the floor: in another minute there was not even room for this, and she tried the effect of lying down with one elbow against the door, and the other arm curled round her head. Still she went on growing, and, as a last resource, she put one arm out of the window, and one foot up the chimney, and said to herself 'Now I can do no more, whatever happens. What WILL become of me?'
Zum Glück für Alice hatte das Zauberfläschchen nun seine volle Wirkung gehabt, und sie wuchs nicht weiter. Aber es war sehr unbequem, und da durchaus keine Aussicht war, daß sie je wieder aus dem Zimmer hinaus komme, so war sie natürlich sehr unglücklich.
Luckily for Alice, the little magic bottle had now had its full effect, and she grew no larger: still it was very uncomfortable, and, as there seemed to be no sort of chance of her ever getting out of the room again, no wonder she felt unhappy.
"Es war viel besser zu Hause," dachte die arme Alice, "wo man nicht fortwährend größer und kleiner wurde, und sich nicht von Mäusen und Kaninchen commandiren zu lassen brauchte. Ich wünschte fast, ich wäre nicht in den Kaninchenbau hineingelaufen – aber – aber, es ist doch komisch, diese Art Leben! Ich möchte wohl wissen, was eigentlich mit mir vorgegangen ist! Wenn ich Märchen gelesen habe, habe ich immer gedacht, so etwas käme nie vor, nun bin ich mitten drin in einem! Es sollte ein Buch von mir geschrieben werden, und wenn ich groß bin, will ich eins schreiben – aber ich bin ja jetzt groß," sprach sie betrübt weiter, "wenigstens hier habe ich keinen Platz übrig, noch größer zu werden."
'It was much pleasanter at home,' thought poor Alice, 'when one wasn't always growing larger and smaller, and being ordered about by mice and rabbits. I almost wish I hadn't gone down that rabbit-hole—and yet—and yet—it's rather curious, you know, this sort of life! I do wonder what CAN have happened to me! When I used to read fairy-tales, I fancied that kind of thing never happened, and now here I am in the middle of one! There ought to be a book written about me, that there ought! And when I grow up, I'll write one—but I'm grown up now,' she added in a sorrowful tone; 'at least there's no room to grow up any more HERE.'
"Aber," dachte Alice, "werde ich denn nie älter werden, als ich jetzt bin? das ist ein Trost – nie eine alte Frau zu sein – aber dann – immer Aufgaben zu lernen zu haben! Oh, das möchte ich nicht gern!"
'But then,' thought Alice, 'shall I NEVER get any older than I am now? That'll be a comfort, one way—never to be an old woman—but then—always to have lessons to learn! Oh, I shouldn't like THAT!'
"O, du einfältige Alice," schalt sie sich selbst. "Wie kannst du hier Aufgaben lernen? Sieh doch, es ist kaum Platz genug für dich, viel weniger für irgend ein Schulbuch!"
'Oh, you foolish Alice!' she answered herself. 'How can you learn lessons in here? Why, there's hardly room for YOU, and no room at all for any lesson-books!'
Und so redete sie fort; erst als eine Person, dann die andere, und hatte so eine lange Unterhaltung mit sich selbst; aber nach einigen Minuten hörte sie draußen eine Stimme und schwieg still, um zu horchen.
And so she went on, taking first one side and then the other, and making quite a conversation of it altogether; but after a few minutes she heard a voice outside, and stopped to listen.
"Marianne! Marianne!" sagte die Stimme, "hole mir gleich meine Handschuhe!" dann kam ein Trappeln von kleinen Füßen die Treppe herauf. Alice wußte, daß es das Kaninchen war, das sie suchte, und sie zitterte so sehr, daß sie das ganze Haus erschütterte; sie hatte ganz vergessen, daß sie jetzt wohl tausend Mal so groß wie das Kaninchen war und keine Ursache hatte, sich vor ihm zu fürchten.
'Mary Ann! Mary Ann!' said the voice. 'Fetch me my gloves this moment!' Then came a little pattering of feet on the stairs. Alice knew it was the Rabbit coming to look for her, and she trembled till she shook the house, quite forgetting that she was now about a thousand times as large as the Rabbit, and had no reason to be afraid of it.
Jetzt kam das Kaninchen an die Thür und wollte sie aufmachen; da aber die Thür nach innen aufging und Alice's Ellbogen fest dagegen gestemmt war, so war es ein vergeblicher Versuch. Alice hörte, wie es zu sich selbst sprach: "dann werde ich herum gehen und zum Fenster hineinsteigen."
Presently the Rabbit came up to the door, and tried to open it; but, as the door opened inwards, and Alice's elbow was pressed hard against it, that attempt proved a failure. Alice heard it say to itself 'Then I'll go round and get in at the window.'
"Das wirst du nicht thun," dachte Alice, und nachdem sie gewartet hatte, bis sie das Kaninchen dicht unter dem Fenster zu hören glaubte, streckte sie mit einem Male ihre Hand aus und griff in die Luft. Sie faßte zwar nichts, hörte aber einen schwachen Schrei und einen Fall, dann das Geklirr von zerbrochenem Glase, woraus sie schloß, daß es wahrscheinlich in ein Gurkenbeet gefallen sei, oder etwas dergleichen.
'THAT you won't' thought Alice, and, after waiting till she fancied she heard the Rabbit just under the window, she suddenly spread out her hand, and made a snatch in the air. She did not get hold of anything, but she heard a little shriek and a fall, and a crash of broken glass, from which she concluded that it was just possible it had fallen into a cucumber-frame, or something of the sort.
Demnächst kam eine ärgerliche Stimme – die des Kaninchens – "Pat! Pat! wo bist du?" und dann eine Stimme, die sie noch nicht gehört hatte: "Wo soll ich sind? ich bin hier! grabe Äpfel aus, Euer Jnaden!"
Next came an angry voice -the Rabbit's- 'Pat! Pat! Where are you?' And then a voice she had never heard before, 'Sure then I'm here! Digging for apples, yer honour!'
"Äpfel ausgraben? so!" sagte das Kaninchen ärgerlich. "Hier! komm und hilf mir heraus!" (Noch mehr Geklirr von Glasscherben.)
'Digging for apples, indeed!' said the Rabbit angrily. 'Here! Come and help me out of THIS!' (Sounds of more broken glass.)
"Nun sage mir, Pat, was ist das da oben im Fenster?"
'Now tell me, Pat, what's that in the window?'
"Wat soll's sind? 's is en Arm, Euer Jnaden!" (Er sprach es "Arrum" aus.)
'Sure, it's an arm, yer honour!' (He pronounced it 'arrum.')
"Ein Arm, du Esel! Wer hat je einen so großen Arm gesehen? er nimmt ja das ganze Fenster ein!"
'An arm, you goose! Who ever saw one that size? Why, it fills the whole window!'
"Zu dienen, des thut er, Euer Jnaden; aber en Arm is es, und en Arm bleebt es."
'Sure, it does, yer honour: but it's an arm for all that.'
"Jedenfalls hat er da nichts zu suchen: geh' und schaffe ihn fort!"
'Well, it's got no business there, at any rate: go and take it away!'
Darauf folgte eine lange Pause, während welcher Alice sie nur einzelne Worte flüstern hörte, wie: "Zu dienen, des scheint mer nich, Euer Jnaden, jar nich, jar nich!" "Thu', was ich dir sage, feige Memme!" zuletzt streckte sie die Hand wieder aus und that einen Griff in die Luft. Diesmal hörte sie ein leises Wimmern und noch mehr Geklirr von Glasscherben. "Wie viel Gurkenbeete da sein müssen!" dachte Alice. "Mich soll doch wundern, was sie nun thun werden! Mich zum Fenster hinaus ziehen? ja, wenn sie das nur könnten! Ich bliebe wahrlich nicht gern länger hier!"
There was a long silence after this, and Alice could only hear whispers now and then; such as, 'Sure, I don't like it, yer honour, at all, at all!' 'Do as I tell you, you coward!' and at last she spread out her hand again, and made another snatch in the air. This time there were TWO little shrieks, and more sounds of broken glass. 'What a number of cucumber-frames there must be!' thought Alice. 'I wonder what they'll do next! As for pulling me out of the window, I only wish they COULD! I'm sure I don't want to stay in here any longer!'
Sie wartete eine Zeit lang, ohne etwas zu hören; endlich kam ein Rollen von kleinen Leiterwagen, und ein Lärm von einer Menge Stimmen, alle durcheinander; sie verstand die Worte: "Wo ist die andere Leiter? – Ich sollte ja nur eine bringen; Wabbel hat die andere – Wabbel, bringe sie her, Junge! – Lehnt sie hier gegen diese Ecke – Nein, sie müssen erst zusammengebunden werden – sie reichen nicht halb hinauf – Ach, was werden sie nicht reichen: seid nicht so umständlich – Hier, Wabbel! fange den Strick – Wird das Dach auch tragen? – Nimm dich mit dem losen Schiefer in Acht – oh, da fällt er! Köpfe weg!" (ein lautes Krachen) – "Wessen Schuld war das? – Wabbel's, glaube ich – Wer soll in den Schornstein steigen? – Ich nicht, so viel weiß ich! Ihr aber doch, nicht wahr? – Nicht ich, meiner Treu! – Wabbel kann hineinsteigen – Hier, Wabbel! der Herr sagt, du sollst in den Schornstein steigen!"
She waited for some time without hearing anything more: at last came a rumbling of little cartwheels, and the sound of a good many voices all talking together: she made out the words: 'Where's the other ladder? -Why, I hadn't to bring but one; Bill's got the other -Bill! fetch it here, lad! -Here, put 'em up at this corner -No, tie 'em together first - they don't reach half high enough yet -Oh! they'll do well enough; don't be particular -Here, Bill! catch hold of this rope -Will the roof bear? -Mind that loose slate -Oh, it's coming down! Heads below!' (a loud crash) -'Now, who did that? -It was Bill, I fancy -Who's to go down the chimney? -Nay, I shan't! YOU do it! -That I won't, then! -Bill's to go down -Here, Bill! the master says you're to go down the chimney!'
"So, also Wabbel soll durch den Schornstein hereinkommen, wirklich?" sagte Alice zu sich selbst. "Sie scheinen mir Alles auf Wabbel zu schieben: ich möchte um Alles nicht an Wabbel's Stelle sein; der Kamin ist freilich eng, aber etwas werde ich doch wohl mit dem Fuße ausschlagen können!"
'Oh! So Bill's got to come down the chimney, has he?' said Alice to herself. 'Shy, they seem to put everything upon Bill! I wouldn't be in Bill's place for a good deal: this fireplace is narrow, to be sure; but I THINK I can kick a little!'
Sie zog ihren Fuß so weit herunter, wie sie konnte, und wartete, bis sie ein kleines Thier (sie konnte nicht rathen, was für eine Art es sei) in dem Schornstein kratzen und klettern hörte; als es dicht über ihr war, sprach sie bei sich: "Dies ist Wabbel," gab einen kräftigen Stoß in die Höhe, und wartete dann der Dinge, die da kommen würden.
She drew her foot as far down the chimney as she could, and waited till she heard a little animal (she couldn't guess of what sort it was) scratching and scrambling about in the chimney close above her: then, saying to herself 'This is Bill,' she gave one sharp kick, and waited to see what would happen next.
Zuerst hörte sie einen allgemeinen Chor: "Da fliegt Wabbel!" dann die Stimme des Kaninchens allein: – "Fangt ihn auf, ihr da bei der Hecke!" darauf Stillschweigen, dann wieder verworrene Stimmen: – "Haltet ihm den Kopf – etwas Branntwein – Ersticke ihn doch nicht – Wie geht's, alter Kerl? Was ist dir denn geschehen? erzähle uns Alles!"
The first thing she heard was a general chorus of 'There goes Bill!' then the Rabbit's voice along—'Catch him, you by the hedge!' then silence, and then another confusion of voices—'Hold up his head—Brandy now—Don't choke him—How was it, old fellow? What happened to you? Tell us all about it!'
Zuletzt kam eine kleine schwache, quiekende Stimme ("das ist Wabbel," dachte Alice): "Ich weiß es ja selbst nicht – Keinen mehr, danke! Ich bin schon viel besser – aber ich bin viel zu aufgeregt, um euch zu erzählen – Ich weiß nur, da kommt ein Ding in die Höhe, wie'n Dosen-Stehauf, und auf fliege ich wie 'ne Rackete!"
Last came a little feeble, squeaking voice, ('That's Bill,' thought Alice,) 'Well, I hardly know—No more, thank ye; I'm better now—but I'm a deal too flustered to tell you—all I know is, something comes at me like a Jack-in-the-box, and up I goes like a sky-rocket!'
"Ja, das hast du gethan, alter Kerl!" sagten die Andern.
'So you did, old fellow!' said the others.
"Wir müssen das Haus niederbrennen!" rief das Kaninchen; da schrie Alice so laut sie konnte: "Wenn ihr das thut, werde ich Dinah über euch schicken!"
'We must burn the house down!' said the Rabbit's voice; and Alice called out as loud as she could, 'If you do. I'll set Dinah at you!'
Sogleich entstand tiefes Schweigen, und Alice dachte bei sich: "Was sie wohl jetzt thun werden? Wenn sie Menschenverstand hätten, würden sie das Dach abreißen." Nach einer oder zwei Minuten fingen sie wieder an sich zu rühren, und Alice hörte das Kaninchen sagen: "Eine Karre voll ist vor der Hand genug."
There was a dead silence instantly, and Alice thought to herself, 'I wonder what they WILL do next! If they had any sense, they'd take the roof off.' After a minute or two, they began moving about again, and Alice heard the Rabbit say, 'A barrowful will do, to begin with.'
"Eine Karre voll was?" dachte Alice; doch blieb sie nicht lange im Zweifel, denn den nächsten Augenblick kam ein Schauer von kleinen Kieseln zum Fenster herein geflogen, von denen ein Paar sie gerade in's Gesicht trafen. "Dem will ich ein Ende machen," sagte sie bei sich und schrie hinaus: "Das laßt mir gefälligst bleiben!" worauf wieder tiefe Stille erfolgte.
'A barrowful of WHAT?' thought Alice; but she had not long to doubt, for the next moment a shower of little pebbles came rattling in at the window, and some of them hit her in the face. 'I'll put a stop to this,' she said to herself, and shouted out, 'You'd better not do that again!' which produced another dead silence.
Alice bemerkte mit einigem Erstaunen, daß die Kiesel sich alle in kleine Kuchen verwandelten, als sie auf dem Boden lagen, und dies brachte sie auf einen glänzenden Gedanken. "Wenn ich einen von diesen Kuchen esse," dachte sie, "wird es gewiß meine Größe verändern; und da ich unmöglich noch mehr wachsen kann, so wird es mich wohl kleiner machen, vermuthe ich."
Alice noticed with some surprise that the pebbles were all turning into little cakes as they lay on the floor, and a bright idea came into her head. 'If I eat one of these cakes,' she thought, 'it's sure to make SOME change in my size; and as it can't possibly make me larger, it must make me smaller, I suppose.'
Sie schluckte demnach einen kleinen Kuchen herunter, und merkte zu ihrem Entzücken, daß sie sogleich abnahm. Sobald sie klein genug war, um durch die Thür zu gehen, rannte sie zum Hause hinaus, und fand einen förmlichen Auflauf von kleinen Thieren und Vögeln davor. Die arme kleine Eidechse, Wabbel, war in der Mitte, von zwei Meerschweinchen unterstützt, die ihm etwas aus einer Flasche gaben. Es war ein allgemeiner Sturm auf Alice, sobald sie sich zeigte; sie lief aber so schnell sie konnte davon, und kam sicher in ein dichtes Gebüsch.
So she swallowed one of the cakes, and was delighted to find that she began shrinking directly. As soon as she was small enough to get through the door, she ran out of the house, and found quite a crowd of little animals and birds waiting outside. The poor little Lizard, Bill, was in the middle, being held up by two guinea-pigs, who were giving it something out of a bottle. They all made a rush at Alice the moment she appeared; but she ran off as hard as she could, and soon found herself safe in a thick wood.
"Das Nöthigste, was ich nun zu thun habe," sprach Alice bei sich, wie sie in dem Wäldchen umher wanderte, "ist, meine richtige Größe zu erlangen; und das Zweite, den Weg zu dem wunderhübschen Garten zu finden. Ja, das wird der beste Plan sein."
'The first thing I've got to do,' said Alice to herself, as she wandered about in the wood, 'is to grow to my right size again; and the second thing is to find my way into that lovely garden. I think that will be the best plan.'
Es klang freilich wie ein vortrefflicher Plan, und recht nett und einfach ausgedacht; die einzige Schwierigkeit war, daß sie nicht den geringsten Begriff hatte, wie sie ihn ausführen sollte; und während sie so ängstlich zwischen den Bäumen umherguckte, hörte sie plötzlich ein scharfes feines Bellen gerade über ihrem Kopfe und sah eilig auf.
It sounded an excellent plan, no doubt, and very neatly and simply arranged; the only difficulty was, that she had not the smallest idea how to set about it; and while she was peering about anxiously among the trees, a little sharp bark just over her head made her look up in a great hurry.
Ein ungeheuer großer junger Hund sah mit seinen hervorstehenden runden Augen auf sie herab und machte einen schwachen Versuch, eine Pfote auszustrecken und sie zu berühren. "Armes kleines Ding!" sagte Alice in liebkosendem Tone, und sie gab sich alle Mühe, ihm zu pfeifen; dabei hatte sie aber große Angst, ob er auch nicht hungrig wäre, denn dann würde er sie wahrscheinlich auffressen trotz allen Liebkosungen.
An enormous puppy was looking down at her with large round eyes, and feebly stretching out one paw, trying to touch her. 'Poor little thing!' said Alice, in a coaxing tone, and she tried hard to whistle to it; but she was terribly frightened all the time at the thought that it might be hungry, in which case it would be very likely to eat her up in spite of all her coaxing.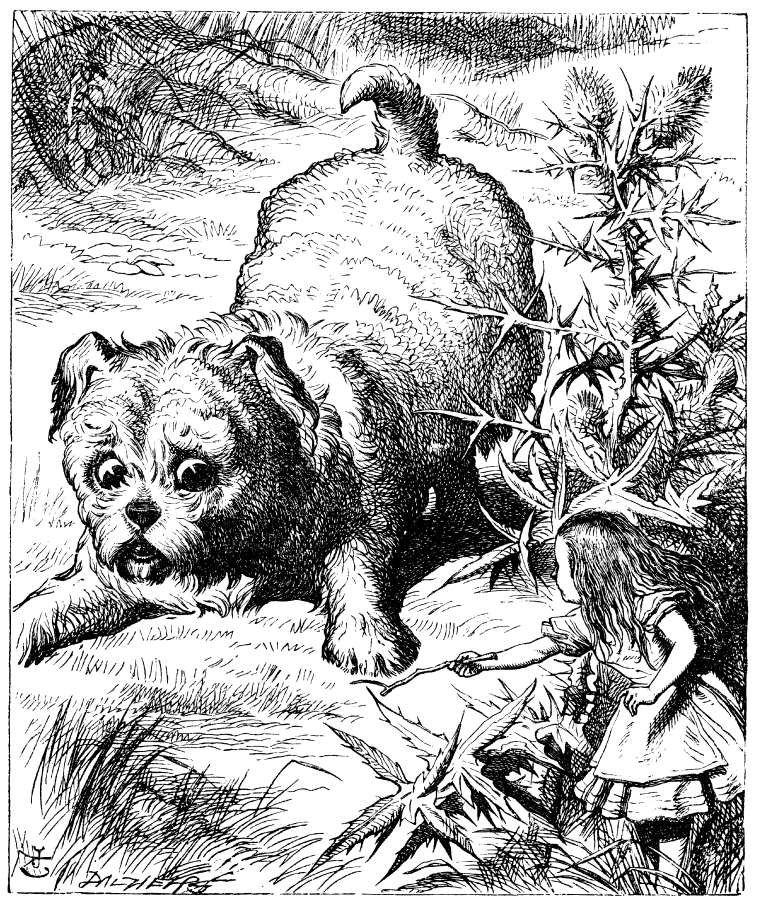 Ohne recht zu wissen was sie that, nahm sie ein Stäbchen auf und hielt es ihm hin; worauf das ungeschickte Thierchen mit allen vier Füßen zugleich in die Höhe sprang, vor Entzücken laut aufbellte, auf das Stäbchen losrannte und that, als wolle es es zerreißen; da wich Alice ihm aus hinter eine große Distel, um nicht zertreten zu werden; und so wie sie auf der andern Seite hervorkam, lief der junge Hund wieder auf das Stäbchen los und fiel kopfüber in seiner Eile, es zu fangen. Alice, der es vorkam, als wenn Jemand mit einem Fuhrmannspferde Zeck spielt, und die jeden Augenblick fürchtete, unter seine Füße zu gerathen, lief wieder hinter die Distel; da machte der junge Hund eine Reihe von kurzen Anläufen auf das Stäbchen, wobei er jedes Mal ein klein wenig vorwärts und ein gutes Stück zurück rannte und sich heiser bellte, bis er sich zuletzt mit zum Munde heraushängender Zunge und halb geschlossenen Augen, ganz außer Athem hinsetzte.
Hardly knowing what she did, she picked up a little bit of stick, and held it out to the puppy; whereupon the puppy jumped into the air off all its feet at once, with a yelp of delight, and rushed at the stick, and made believe to worry it; then Alice dodged behind a great thistle, to keep herself from being run over; and the moment she appeared on the other side, the puppy made another rush at the stick, and tumbled head over heels in its hurry to get hold of it; then Alice, thinking it was very like having a game of play with a cart-horse, and expecting every moment to be trampled under its feet, ran round the thistle again; then the puppy began a series of short charges at the stick, running a very little way forwards each time and a long way back, and barking hoarsely all the while, till at last it sat down a good way off, panting, with its tongue hanging out of its mouth, and its great eyes half shut.
Dies schien Alice eine gute Gelegenheit zu sein, fortzukommen; sie machte sich also gleich davon, und rannte bis sie ganz müde war und keine Luft mehr hatte, und bis das Bellen nur noch ganz schwach in der Ferne zu hören war.
This seemed to Alice a good opportunity for making her escape; so she set off at once, and ran till she was quite tired and out of breath, and till the puppy's bark sounded quite faint in the distance.
"Und doch war es ein lieber kleiner Hund!" sagte Alice, indem sie sich an eine Butterblume lehnte um auszuruhen, und sich mit einem der Blätter fächelte. "Ich hätte ihn gern Kunststücke gelehrt, wenn – wenn ich nur groß genug dazu gewesen wäre! O ja! das hätte ich beinah vergessen, ich muß ja machen, daß ich wieder wachse! Laß sehen – wie fängt man es doch an? Ich dächte, ich sollte irgend etwas essen oder trinken; aber die Frage ist, was?"
'And yet what a dear little puppy it was!' said Alice, as she leant against a buttercup to rest herself, and fanned herself with one of the leaves: 'I should have liked teaching it tricks very much, if—if I'd only been the right size to do it! Oh dear! I'd nearly forgotten that I've got to grow up again! Let me see—how IS it to be managed? I suppose I ought to eat or drink something or other; but the great question is, what?'
Das war in der That die Frage. Alice blickte um sich nach allen Blumen und Grashalmen; aber gar nichts sah aus, als ob es das Rechte sei, das sie unter den Umständen essen oder trinken müsse. In der Nähe wuchs ein großer Pilz, ungefähr so hoch wie sie; nachdem sie ihn sich von unten, von beiden Seiten, rückwärts und vorwärts betrachtet hatte, kam es ihr in den Sinn zu sehen, was oben darauf sei.
The great question certainly was, what? Alice looked all round her at the flowers and the blades of grass, but she did not see anything that looked like the right thing to eat or drink under the circumstances. There was a large mushroom growing near her, about the same height as herself; and when she had looked under it, and on both sides of it, and behind it, it occurred to her that she might as well look and see what was on the top of it.
Sie stellte sich also auf die Fußspitzen und guckte über den Rand des Pilzes, und sogleich begegnete ihr Blick dem einer großen blauen Raupe, die mit kreuzweise gelegten Armen da saß und ruhig aus einer großen Huhka rauchte, ohne die geringste Notiz von ihr noch sonst irgend Etwas zu nehmen.
She stretched herself up on tiptoe, and peeped over the edge of the mushroom, and her eyes immediately met those of a large caterpillar, that was sitting on the top with its arms folded, quietly smoking a long hookah, and taking not the smallest notice of her or of anything else.
Text from wikisource.org
Audio from LibreVox.org
Text from wikisource.org
Audio from LibreVox.org